When choosing cat names, many people select one that brings with it certain associations or meaning. Famous cat names are a great choice because most people will recognize the connection to a famous feline and it can be a great way to associate certain traits with your kitten. Or perhaps you already see some similarities between your kitten and a particular prominent or popular cat. You may love a specific famous cat or really see the personality match your little kitty perfectly. This collection of well known cat names is divided into two main categories: 1) famous male cat names and 2) famous female cat names. However, many of these names are actually unisex.
In addition, if you are looking for a specific color or breed such as white, grey, black, orange, famous Siamese cat names, celebrity cat names, etc. we tried to include a few well-known cat names from as many categories as we could find. From famous cat names in literature to famous cartoon cat names to famous cat names in movies, this collection is designed to include all of the most well-known cat names.
Famous Male Cat Names
Felix the Cat (one of the most famous cat names of all time)
Truly famous cat names end up becoming common names, and that's exactly what has happened with the name Felix. Felix the Cat was the original famous cartoon cat. He is humorous cartoon superstar, who was created a hundred years ago during the silent film era. It is said that he was modeled after Charlie Chaplin. He has a magical bag of tricks from which he can pull out anything he needs. The name Felix is now one of the most popular cat names in the world now and one of the most famous black cat names. This would be a great option for a timeless classic cat name.

Tom from Tom and Jerry
When it comes to famous cat names, Tom from the classic TV series is one the most well-known. This grey and white domestic short-hair cat (full name: Thomas Jasper) is the arch nemesis of Jerry the mouse who has a comfortable and pampered life. He spends his time endlessly chasing Jerry and getting caught up in all sorts of traps, to the point that you often feel sorry for poor Tom. No list would be complete without this renowned cat, the most of the famous grey cat names.

Garfield (famous cat names must include this superstar!)
Garfield is legendary. The orange tabby cat who has taken the world by storm and captured the hearts of millions, is now a classic cat with a big attitude. Starting out as a comic strip, he has branched off into movies and a TV series. Famous for hating Mondays and loving lasagna, he pals around with his owner Jon and dog Odie. He can't stand the cuteness of fellow feline Nermal (see below). As for famous cat names, they don't come bigger than this one. And if you are looking for famous orange cat names, this is one is classic.
Sylvester
AKA: Sylvester J. Pussy Cat, Sr., AKA: Puddy Tat. From the well-known Looney Tunes cartoon series, he is a tuxedo cat who is known for his sloppy nasal voice and trademark exclamation "Sufferin' succotash", this is one proud and driven cat. He gets paired with Tweety Bird and is constantly trying to catch him, though like Tom, always falls just short. Sylvester is one of the most truly terrific famous black and white cat names.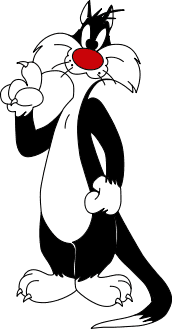 Tigger
"Bouncing is what Tiggers do best". He is household name with orange and black stripes, a long chin, springy tail, sweet face, energetic, loving, friendly and of course he's known for his love of bouncing. He is the best friend of Winnie the Pooh and the most eccentric member of the Hundred Acre Wood. Though technically a tiger, the name Tigger has become one of the most famous orange cat names and one of the most well known cat names from Disney movies.
Simba
One of the most popular cat names there is. This adorable future king who has admiration for his father is the protagonist of the movie The Lion King. He tackled many obstacles and criticism to take his rightful place as a king. One of the most famous big cat names and probably the most well known of the Disney cat names. Interestingly, Simba has become a very popular choice for Bengal cat names, despite Bengals have a completely different look and pattern.
Heathcliff (one of the most famous orange cat names)
Heathcliff, Heathcliff no one should terrify their neighborhood! If you know the lyrics to this theme song then you've just dated yourself. Good old Heathcliff, the original feline prankster and notorious mischief maker, starred in a cartoon where he pretty much did as he wanted whenever he wanted. If you have an independent kitty who has these traits then Heathcliff might be the perfect name for your cat.
Scratchy (one of the best famous grey cat names)
Fans of the popular and renowned show The Simpsons recognize this name instantly. The hapless grey (sometimes black) cat Scratchy is brutally attacked and hurt by Itchy the mouse. Nevertheless this would be a fun cat name for those with a good sense of humor and for Simpsons fans this is the ultimate of the famous black cat names.
Nermal
This grey tabby proudly claims to be the cutest kitten in the world. Nermal is constantly being bullied or shipped off to Abu Dhabi by Garfield. If your kitten is as cute as a kitten can get, or a grey tabby, this might be one of the best famous cat names for your kitty.
Figaro
This adorable and cuddly tuxedo cat is Gepetto's pet in Pinocchio. Another of the famous black cat names.
Mr. Jinks / Mr. Jinx
He's known for his phrase "I hate those meeces to pieces" in Pixie and Dixie and Mr. Jinx. And in the movie Meet The Parents, who can forget the beloved cat named Mr. Jinx of the Byrnes' family who knows how to flush the toilet all by himself.
Azrael
An orange tabby cat from the Smurfs cartoon and a loyal pet of Gargamel. He's got a cackle and meow unlike any other cat.
Stimpy
From the 90s cartoon Ren and Stimpy, his idiotically smart and bizarrely talented red and white cat is simply ridiculous. He likes cooking, inventing and music and Stimpy is the one of the silliest famous cat names.
Lucifer
A toothy-grinned, naughty, gluttonous mice-loving black cat who is hostile towards Cinderella.
Oliver
This cute little orange orphaned kitten is brave, intelligent and resourceful as he joined a group of dogs to survive in the streets of New York.
Mr. Bigglesworth
Dr. Evil's beloved cat. Perfect if your cat has plans for world domination.
The Cheshire Cat
The classic character from Alice's Adventures in Wonderland, the Cheshire Cat is a magical, mystical, purple and pink mischievous cat with a distinctive grin. Perfect for the kitten who has the crafty skill of vanishing in an instant.
Milo
A curious little kitten who gets into a lot of trouble and gets into an adventure with his friend, a pug named Otis, as they try to find their way home.
Tonto
An award winning and beloved tabby cat of Harry's from the movie Harry and Tonto.
Salem Saberhagen
A cool name for a black cat, Salem is the talking witch cat and loyal friend of Sabrina The Teenage Witch.
Orangey (perhaps the least creative of the famous orange cat names)
A ginger colored tabby cat who had one of the most prolific careers in film of any cat appearing in films such as Breakfast at Tiffany's and The Incredible Shrinking Man. He was the only cat to win two Patsy Awards.
Thomas O'Malley
The easy-going and friendly male protagonist from the movie The Aristocats. He is tough, courageous and romantic.
Scat Cat
Another of the characters from The Aristocats, he is a fat grey cat who plays the trumpet and leads a group of cat jazz musicians. Check out our collection of Aristocats cat names.
Famous Female Cat Names
Unfortunately the list of famous female cat names is shorter than its male counterpoint. Though there are less famous girl cat names, we did our best to collect as many famous cat names as we could for your female kitten.
Hello Kitty (famous female cat names don't get much more well-known than this)
Hello Kitty is a Japanese bobtail cat with a red bow worn on her left ear and is also known as Kitty White (white cat names). She is also known for her bright, sweet, cheerful character and kind heart. Interested in more Japanese cat names?
Nala
The sweet and supportive best friend and partner of Simba from The Lion King, she is sassy, sensible and nurturing. We love this name especially for playful and charming kittens.
Duchess (the most classic of the famous white cat names)
The main female protagonist from The Aristocats is sweet, charming and cute and sports a pure white coat.
Sagwa
From the animated TV series called Sagwa, the Chinese Siamese Cat based on an Amy Tan novel. Sagwa got her Siamese markings by accident and is able to use her tail to write Chinese. Definitely one of the most unique of the famous cat names.
Tardar Sauce (aka: Grumpy Cat)
Yep, she's female! She is an internet celebrity featured frequently on memes due to her facial appearance which appears grumpy because of feline dwarfism and an underbite.
Mittens
A savvy and short-tempered stray cat that was abandoned by her owners. She managed to survive in New York and became friends with Bolt. (Bolt Movie)
Si and Am (famous Siamese cat names)
These twins are the sneaky troublemakers in the film Lady and the Tramp. The aren't the most famous of the Disney cat names, but we felt they deserved a place on this list.
Sassy
Sassy is a sarcastic Himalayan cat from the movie Homeward Bound. Got a sarcastic cat? If so, this is the perfect name, and also, I'd love to meet a sarcastic cat myself!
Tom's (from Tom and Jerry) Love Interests
Tom was quite the ladies man and had numerous love interests in the show. Their names are:
Cindy Lou
Cozette
Lieutenant Lucy
Misty
Sugar Bell
Tara
Toodles Galore
Toots
We hope you enjoyed this collection of famous cat names! You may also be interested in these collections of unique cat names and Halloween cat names.
Did you enjoy these famous cat names? Please share them with other cat lovers. Spread the fuzzy friskiness with cat-like reflexes! Every bit helps!